USA $65 + $12.00 shipping
CANADA $65 + $23.00 shipping


WORLDWIDE $65 + $37.00 shipping


This kit contains :
(1) entire induction AC motor
(20) n52 SUPER STRONG NEODYMIUM 1"x1/2"x 1/8"
(2) WOODEN HEXAGON ROTORS (for triple magnet configuration)
(1) STEEL ROTOR 2" (for double magnet configuration)
DIRECTIONS

READ BEFORE YOU BUY!!!!!!!!!!!! This kit is in the early stages of development. This KIT REQUIRES a general understanding
of how alternators work. You MUST have a DRILL or DRILL PRESS to Drill a hole in the rotors.
An extra wooden rotor is included for practice.
Watch both videos before you decide this is for you.
The motor is shipped as a FULLY functioning AC MOTOR not an ALTERNATOR.
The motor is not warrantied as a MOTOR, it is BRAND NEW but old stock.
The steel rotor is for permanent long term usage but requires mounting.
The wooden rotors will last too but many not survive excessive weather exposure.
The induction MOTOR ROTOR contains the 3/8" steel rod for the kit.
This must be tapped out if the squirrel cage rotor which is not used.
The magnets are very powerful, wear goggles flying magnetic.
The magnets can PINCH YOUR FINGERS.
NEVER TEST ALTERNATOR BY HOLDING IT WITH YOUR HAD AS
I DID IN THE VIDEO!!!!! THIS IS DANGEROUS!!
When a load is applied or if you mount incorrectly, the alternator can SPIN
out and cut your hand (TRUST ME:-) MOUNT IT THEN TEST.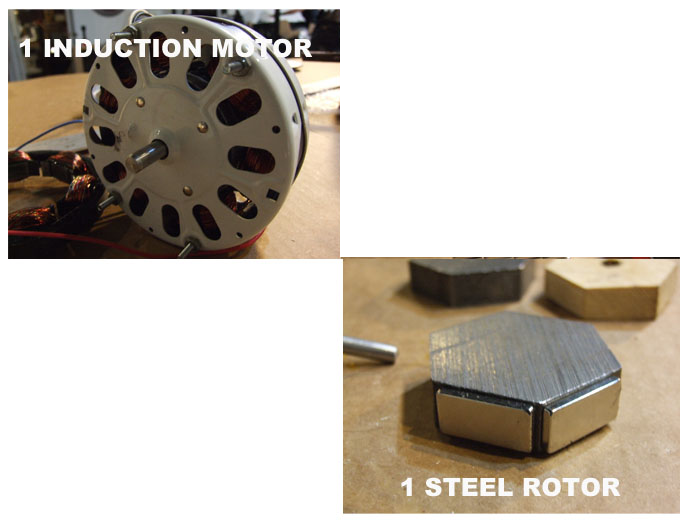 ROTOR 1700 RPM MAX-
MAXIMUM OUTPUT, 300 WATTS @1889 RPM
1.3 Amp, INDUCTION MOTOR CONVERSION KIT.


<